Royally Raised – Click HERE to read for FREE on all ebook platforms now
Royally Marooned (Nicholas & Olivia, takes place after Royally Screwed):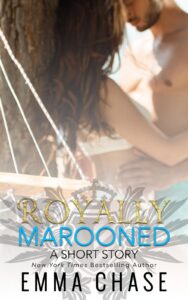 Nicholas
            My intentions were good—as those that pave the way to hell always are. 
            After the whirlwind that accompanies a royal wedding, for our honeymoon, I'd wanted to show Olivia everything. Take her to all the places she'd heard of, dreamed of, but had never been able to see. Until now. I'd imagined her sexy gasps of surprise, how her beautiful face would light up as she took in the wonders of the world and the splendor of the cities. I wanted every second to be perfect for her—as she stood by my side, holding my hand.
            I don't know what the hell I was thinking. Apparently love really does turn men into fools—and princes are not immune.
            It started in Paris. Where Olivia and I sat at a sidewalk table, at a charming little café, gazing into each other's eyes while sharing a delectable chocolate confection.
            With roughly a thousand people watching us.
            From behind a barricade.
            Taking photos and calling our names.
            Two news stations sent camera crews. We had "no comment".
            They closed the Eiffel Tower for us. And I was able to take Olivia to the very top—but only at night. We visited Notre Dame and I kissed her in the halls of the Louvre . . . but only after closing. And also at night.
            Inside our hotel suite—when it was just the two of us—life was more blissful than I ever could have envisioned.
            Outside, we lived like fugitives on the lam. Or vampires.
            It got worse in Rome.
            We were barred from the Colosseum—the crowds were too large. We couldn't stroll hand-in-hand down the romantic cobblestone streets—too much of a security risk. And on the fourth night of our honeymoon, when Olivia and I indulged in a midnight dip in our room's "private" balcony hot tub—photographs ended up on-line and splashed across the front pages of the papers the very next morning.
            "Fucking bastards," I growl, tossing a tabloid with a zoomed in shot of my wife's barely covered bikini-clad arse, in the trash.
            Olivia is in the shower at the moment, she hasn't seen the photos yet—she'll be mortified when she does. And it's all my fault. Because I thought I could protect her from this. Because I'm a double-damned idiot. Because by now, I really ought to have known better.
            I rub my eyes as fury and resentment burn bitterly in my throat.
            Tommy Sullivan, head of our personal security team for the trip—while Logan and James stayed behind to mind Ellie and Henry, respectively—is almost as put out about the invasion of privacy as I am.
            "You want me to find the twat who took that shot?" He asks, pointing at the trash bin. "Getting his picture-taking finger broken in multiple places might teach him some proper manners."
            I give the idea serious consideration.
            Until my mobile rings.
            It's my grandmother. The Queen of Wessco. She's Facetiming me.
            And the morning just keeps getting better.
            I take the call in the library.
            "Grandmother," I greet her, dipping my head respectfully.
            "Nicholas," she returns, her sharp, steel-gray eyes roaming over my face, not missing a thing.
            From the background, I see she's in the Royal Office, at her enormous desk with the portrait of my grandfather, Prince Edward, hanging on the wall behind her like a guardian angel.
            "How are you, my boy?" she asks. "How is Olivia? Are you enjoying your trip?"
            I rub the back of my neck and force a smile.
            "I'm fine. Olivia's fine. The trip is going . . . fine."
            Her eyes narrow, "Interesting."
            I watch as she taps several keys on her computer. Despite her age the Queen is all about the technology.
            "You don't look fine. In Paris Olivia appeared rather overwhelmed and you seemed on the verge of committing murder. And the images that came out this morning are quite . . . explicit."
            I shake my head. "That's not Olivia's fault. We were in the our own room—she should be able to swim naked if she wanted to."
            "Of course, it's not her fault," my grandmother tsks. "What do you take me for, Nicholas? The fact remains, however, that what you or Olivia should be able to do is irrelevant. That's not the world we live in. That's not who we are—you know this."
           "Yes," I sigh, dejectedly. "I guess I had hoped that our honeymoon would be . . . different."
            The Queen nods softly.
            "Did I ever tell you about my honeymoon with your grandfather? Where he took me?"
            "No, I don't believe you have."
            A small, secret sort of smile passes over her face.
            "I'll spare you the gory details, but perhaps it's time you take a page from his book. Start thinking outside the box or . . . off the grid, as they say."
            By the time our conversation ends several minutes later—I have a plan.
            And it's grand.
***
            The next afternoon, I take Olivia sailing, just the two of us. The sun is bright, the air is warm, and the water is blue and clear, with just enough kick to keep things interesting.
            Olivia tips her head back as a refreshing mist drifts over the bow. She's wearing snug white shorts, a striped navy shirt tied in a knot at her waist, with the strings of a white bikini peeking out from underneath and her dark hair framing her face in wild, reckless waves.
            She looks good enough to eat—and I fully intend to do just that. As soon as possible.
            "Lowering the boom?" She guesses at the sailing term, staring at my arms as I tighten the rope in my hands.
            "Pulling in the mainsheet." I correct her with a wink.
            I stand and gesture for her to come over. Which she does, sliding between my arms and the helm, so I can hold her and steer at the same time.
            "Are you sure you know where we're going?" She asks, gazing out at the seemingly endless, empty blue all around.
            "I'm sure, love," I whisper against her ear, kissing and sucking at the soft skin of her neck, because she smells so damn good. My beautiful, delicious, little wife. "It's a surprise."
            Olivia turns around, lifting her arms up to my neck, pressing her body against mine and pulling my lips toward hers for a kiss. Her tongue is hot and wet, and her fingers slide through my hair—soothing and tugging at the same time.
            "I love you," she whispers against my mouth.
            Just like the first time, the words hit me like a beautiful jab to the gut. And I'm grateful and greedy, humbled and hungry for more of her, all over again.
            My eyes open in time to spot the dot of land that suddenly appears over Olivia's shoulder. And I straighten up, smiling down at her, smoothing her hair back from her cheek.
            "We're here."
***
            I tie the boat up, then hold out my hand and help Olivia step onto the small dock. I wrap an arm around her shoulder, and she slides her arm behind my waist as we walk together into the island paradise.
            And her eyes—I watch as her beautiful blue eyes flare wide with surprise and wonder. And it's so fucking good, even better than what I'd imagined—hoped—a moment like this would be.
            "Is this . . . is this even real?" Olivia laughs.
            We walk up the white sandy beach to the tiny, wooden hut with blue-shuttered windows and a billowing orange fabric covered doorway to let in the breeze. Behind the hut is a dark green jungle canvass, dotted with heavy hanging fruit trees. Inside is the epitome of minimalist opulence—a gigantic fluffy bed with dozens of pillows and crisp bed linens encased in beige mosquito netting, a teak-countered kitchenette with a solar powered ceiling fan and fully stocked ice box and pantry; and in the room in the back, a toilet, fresh water shower, and a porcelain clawfoot tub large enough for two. On the wall hangs a rifle and machete—just in case—and in front of the hut is a fire-pit with a stack of chopped wood ready to burn, two cushioned lounge chairs side by side, and a bit down nearer to the water, a round outdoor daybed with a canopy to protect from the sun.
            I give Olivia's hand a squeeze.
            "It's real. This is where we'll spend the rest of our honeymoon." I press a kiss to her lips, punctuating the words. "No press, no crowds, no curious strangers . . . just us. Naked us."
            Olivia nips at my neck.
            "How did you make this happen?"
            "An acquaintance of my grandmother owns the island."
            "Your family has friends who own their own island?" My stunning wife shakes her head up at me. "I will never get used to that."
            Olivia looks down the beach, then out past the crashing waves to the ocean beyond. A flock of seagulls dive toward the water in synchronized formation, looking for their lunch.
            "But are you sure no one else can get here, Nicholas? Unexpectedly?"
            Suddenly a voice comes from the walkie-talkie on the table. Tommy's voice.
            "Professor? Do you read me Professor? It's the Skipper—over."
             I pick up the walkie-talkie. "Yes, Tommy I can hear you."
            "You have to use the code names, Sir," he grumbles through the speaker. "This only works if you use code names."
            "Right, sorry," I chuckle. And Olivia laughs beside me, her eyes light and dancing in the warm afternoon sunshine.
            I clear my throat and force my tone to a more serious level.
           "The Professor and Mary Ann have landed safely. All is well on Gilligan's Island. Over."
            "Roger that," Tommy replies.
            A moment later, Olivia smirks, asking, "Mary Ann?"
            I wrap my hands around her waist and pull her close.
            "I always preferred Mary Ann to Ginger."
            Then I shrug out of my shirt and unbuckle my trousers, leaving my now unnecessary clothes in a pile in the sand.
            "In answer to your question, Tommy and the security units are patrolling on the water—so no one else can get here. But we can't see them and they can't see us, I swear."
            Holding her gaze, I tug at the knot on her shirt until it comes loose. I strip it down her arms and she lets me. Because she trusts me. Because she knows I would risk my own naked arse getting photographed—but I would never, ever risk hers.
            Olivia's beautiful bare bits are for my eyes only.
            She lets me slide her shorts off next, then I slowly pull on the string of her bikini, letting it fall from her neck, exposing her sweet, full breasts to my eyes.
            And my mouth.
            I dip my head and drag the flat of my tongue back and forth over her nipple, until it's peaked and firm. Olivia's breath is quick and her voice is a feathery moan.
            "Nicholas . . . "
            "I want to make love to you in the ocean," I whisper. "I want to lick the salt from your skin."
            I feel her nod and the press of her arms around my shoulders as I lift her and carry her to the water.
***
            After we make love in the water and then again in the shower, I teach Olivia how to spear fish. She's a natural at it and we cook her catch over the open fire for dinner.
            And now we lay on a lounge seat in front of the fire, tangled up in each other, beneath the full moon and spectacular stars, listening to the sounds of the waves and Journey playing low from the speaker of her phone.
            I press my lips to Olivia's temple and a laugh rumbles from my chest.
            My wife twists around to meet my eyes.
            "What is it?"
            "I was just thinking . . . " I shake my head, "It's funny. All the luxury I grew up with, that's always surrounded me—and I've never been happier in my whole life, than I am right here, right now, with you."
            Olivia smiles gently, then reaches up and rubs her hand across the stubbled jaw she likes so much.
            "Limos and castles and private jets are nice, Nicholas—I'm not going to lie. But I don't need them. Wherever we are, wherever we go, all I'll ever need to be happy . . . is you."
            We kiss softly, sweetly, for a few moments, holding each other close and looking into each other's eyes.
            Then Olivia slaps her own arm. Hard. And amends her declaration.
            "You . . . and the mosquito net."
             I laugh, nodding.
            "The mosquito net is crucial."
            Still chuckling, I stand and swoop Olivia into my arms, carrying her to bed where we pleasure each other over and over, long into the night.
            And that's where we spend the next eight days—just Olivia and I, blissfully content and royally marooned on our own little island of love.
The End