Everyday I'm surprised, humbled and thankful for all the support I get from readers. Yesterday my publisher informed me that Twisted came in #19 on New York Times list (ebooks) & #48 on USA Today's Bestsellers list.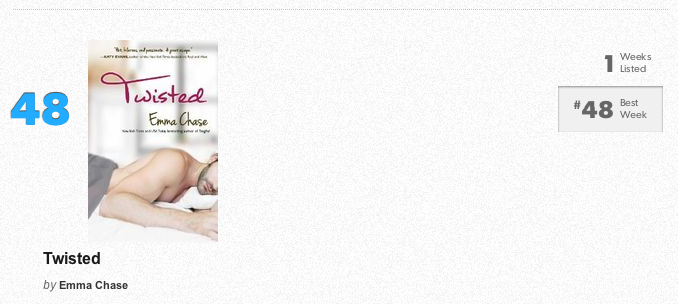 Do we all remember, in Tangled, how much Drew loved Kate's scent? I believe his exact words were, "Like warm cookies in the Garden of fucking Eden." In Twisted Kate shares that her favorite product is lavender and vanilla. I love this scent too! So how about a giveaway?!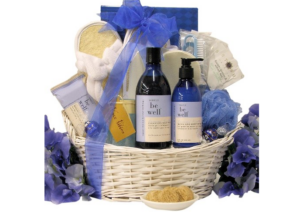 How to Enter
– Comment below with your favorite quote from either Tangled or Twisted.
– Ends 4/8/14
Prizes
– Grand Prize (1 winner) Signed paperback copy of Twisted
– Two additional winners will get lotion and body wash set and a swag pack.

Open International however if amazon does not ship to your country we will substitute your prize.
No words can express how thankful I am to readers who continue to support Drew + Kate.I know a lot of readers are excited and anxious for Tamed to be released and I cannot wait for you to get it! I know a lot of readers miss Drew. I miss him too. So… how about a little teaser? If you follow me on twitter you already saw this teaser but here it goes…
"Even though one set of lips says no? Her other set its always up for a good time."
–
Tied
(Tangled #4) 10/14/14
I know Drew is naughty. What can I say he is my favorite naughty boy.
p.s.
Don't forget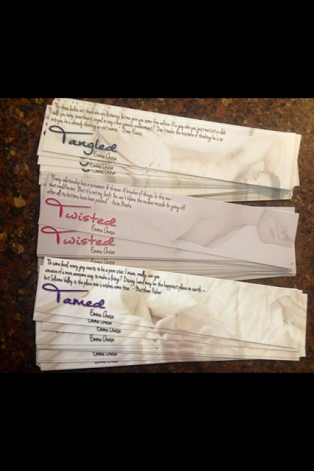 When you finish TWISTED posts a review (good or bad) on any vendor site where Twisted is for sale (Amazon, B&N, ibooks, etc) and you will receive a Twisted Bookmark. Email a link to your review and address to giveaways@emmachase.net.
Hurry we have a select number of bookmarks once they run out their gone!
p.s.s
Get Your Name In Tied Giveaway Winner!!!
And we have a winner! Many thanks to everyone who entered this contest – it was really exciting!!
And now, drum roll please……
The winner whose name will be featured in TIED is:
Lauren Laforet !!!!!!
Congratulations Lauren!!
Her entry was randomly selected by a number generator – but is that a beautiful name or what??
Thanks again to all who entered I'll have many more exciting giveaways coming up very soon
Look for Lauren's name in TIED, October 2014
xoxo