Tangled is now out in Audiobook!! I've listened to it myself and – even though I wrote those steamy lines – hearing them, out loud, made me blush bright red!!
Drew is a very naughty boy!
If you want a little listen, here are a few clips: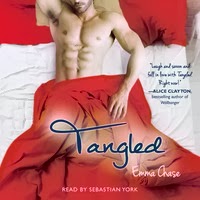 Tangled is available for download at Simon & Schuster Audio, iTunes, and Amazon.
Sebastian York did a fantastic job as Drew Evans! I was lucky enough to sit down and interview the man himself. You can read our chat on the USA Today website.
Last but not least, my publisher Simon & Schuster Audio is having a fantastic winter sweepstakes! Enter for a chance to win a $500 gift card to Victoria's Secret, a $500 gift basket from Bliss Spa plus a 32 GB iPad Mini preloaded with over 20 steamy listens—including the Tangled audiobook! Check it out here: https://www.facebook.com/SimonAudio/app_160430850678443
That's all for now!!
XOXO