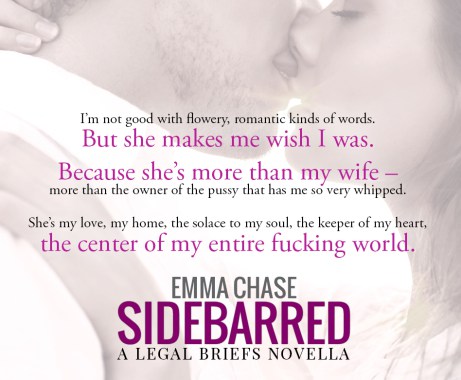 Coming April/May 2016
Dear Readers,
First off, thanks so much to Natasha is a Book Junkie for sharing this exclusive, exciting announcement!
I had a great time writing the Legal Briefs Series—Overruled, Sustained & Appealed. It's the first standalone series I've done in which the books can be read out of order, and the characters make appearances in each other's stories. It made for warm, playful, sexy storytelling that hit that sweet emotional chord all of us crave.
Although the extended epilogue in Appealed wrapped everything up as I'd always planned, when I typed that last *The End* it didn't feel like THE END. These characters, who had become so precious to me, weren't finished just yet – they still had more to say.
I'm thrilled to announce that I'm bringing you that story in a new Legal Briefs novella, SIDEBARRED!
The gang's all here—as funny and inappropriate, loyal and heartwarming as ever. This one's for you, wonderful readers! Thank you letting these characters into your hearts and for enjoying them every bit as much as I have."
xoxo Emma