Happy Holidays ! I meant to share this pie recipe last week but the week got away from me. However apple pie is always a perfect dessert to add to any meal. Enjoy Amelia's Apple pie recipe from Royally Screwed.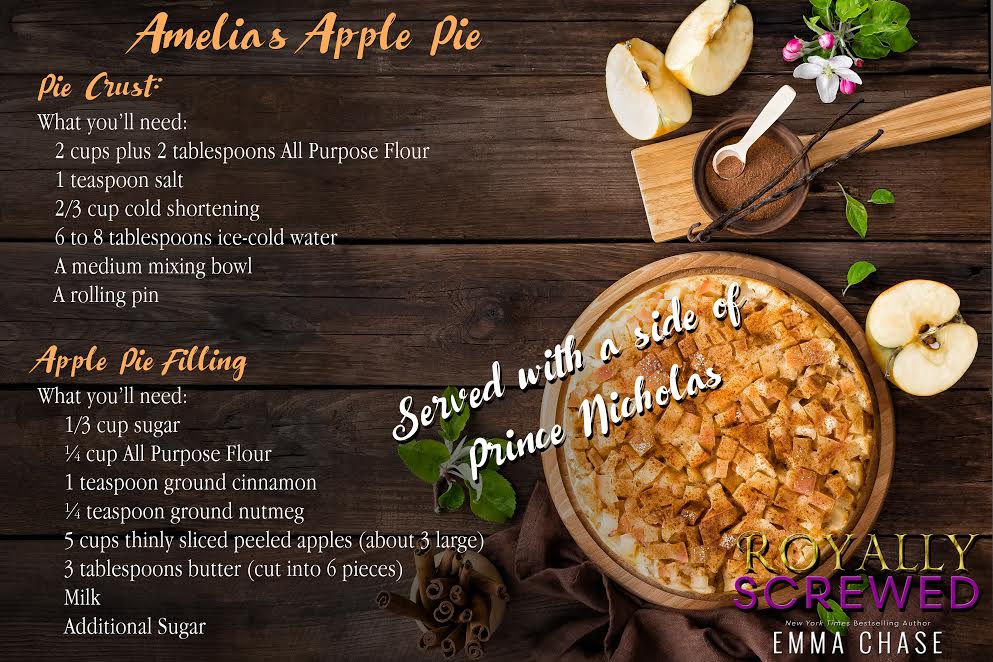 Pie Crust:

Mix flour and salt in medium bowl. Cut in shortening, using pastry blender or fork, until mixture forms coarse crumbs the size of small peas. Sprinkle with the water, 1 tablespoon at a time, tossing with fork until all flour is moistened.
Gather pastry into ball. Divide in half; Wrap in plastic wrap and refrigerate 45 minutes.
Using floured rolling pin, roll one pastry ball on lightly floured surface into a round 2 inches larger than upside-down 9-inch glass pie plate.
Gently lay crust into pie plate, pressing firmly against bottom and side.
Repeat with second pastry ball and set aside.

Apple Pie Filling
Heat oven to 425 degrees Fahrenheit

Stir together 1/3 cup sugar, flour, cinnamon and nutmeg in large bowl

Add apples and toss to coat

Spoon into pasty lined pie pan

Dot with butter

Cover with top of pastry and pinch edges

Brush lightly with milk and sprinkle lightly with additional sugar

Bake 30-35 minutes or until crust is golden brown and juice is bubbly
The store has officially opened for the holiday season. We are selling signed copies of Royally Screwed and tote bags while supplies last. These gifts are the perfect stocking stuffers for readers. At this time shipping is limited to US only.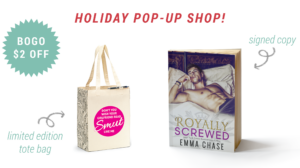 *Orders made by December 10 will ship in time for Dec 25.